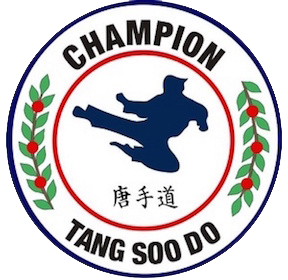 "Tang Soo Do - a form of Karate - is a traditional Korean martial art which teaches self-defence through combat and weapons training. Champion Tang Soo Do also guides people to live a healthy and harmonious life. Based in Rugby, Warwickshire, we teach people with a wide range of abilities and ages, whether you want to train for fitness and health, or are safety conscious, or simply want to find a hobby to relieve stress, then this maybe for you!
Champion Tang Soo Do offer a real Martial Art with a firm belief in our art being classed as a "figthing art' meaning contact as a necessity. Champion Tang Soo Do is the outward thoughts and hopes of what we believe a respectable, hard working and honest Martial Art should be, keeping our Martial Art as pure as possible and not dilute the History of Tang Soo Do by 'latest influences'.
In today's modern world, more and more people are learning self-defence. Tang Soo Do is a very effective method of self-defence. But there are many other reasons why men, women and children have taken up Tang Soo Do training. Our martial art provides skills such as self-confidence, self-discipline, physical fitness, flexibility, co-ordination and respect. The real benefits of Champion Tang Soo Do are not the belts you earn, but the changes that will occur within you. These changes include the enhancement of your mind, body and spirit as well as the development of individual character and respect for others. The true goal of Champion Tang Soo Do is to use the lessons you learn in class to enrich every part of your life"
With British, European and World titles along with a real focus on student satisfaction, you can be sure you are learning from the best.
Learn discipline that will have unlimited benefits.

Build confidence and transform yourself mentally.